This month's book list is a combination of old and new – a couple of fun re-reads mixed with some exciting new acquisitions…
By Any Means by Charley Boorman

Grabbing whatever local transport he can get his hands on, Charley travels from his home town in County Wicklow all the way to Australia – a trip of over 20,000 miles through twenty-five countries. He drives a lorry through northern Iran, rides a tuk-tuk through the chaotic and colourful city of Varanasi, and becomes the first person ever to wakeboard across the Malay/Singapore border. He sets up his own bus service in Turkey, takes a slow boat down the Mekong, and a very fast one through Borneo to deliver vaccines for UNICEF. And of course he jumps on a bike whenever he can, even if there's a monsoon on the way . . .
This is a re-read because i forgot I had it! I originally bought this book because I loved watching Charley and Ewan McGregor's Long Way Down and Long Way Round so I was intrigued to see what happened when Charley took on an adventure on his own. Though the whole trip from Ireland to Australia was filmed for a TV series I much prefer the written version as it has all the insider bits that get skipped over when something is edited down for TV. It's a witty, interesting travel memoir perfect for anyone with a sense of adventure and wanderlust.
Party Girls Die in Pearls by Plum Sykes
Pimm's, punting and ball gowns are de rigeur. Ursula Flowerbutton, a studious country girl, arrives for her first term anticipating nothing more sinister than days spent poring over history books – and, perhaps, an invitation to a ball. But when she discovers a ghastly crime, she is catapulted into a murder investigation.
Determined to unravel the case – and bag her first scoop for the famous student newspaper Cherwell – Ursula enlists the help of her fellow Fresher, the glamorous American Nancy Feingold. While navigating a whirl of black-tie parties and secret dining societies, the girls discover a surfeit of suspects. From broken-hearted boyfriends to snobby Sloanes, lovelorn librarians to dishy dons, none can be presumed innocent.
I AM SO EXCITED FOR THIS ONE!! Plum Sykes is one of my all-time favourite authors and the author of my favourite book (it's tied for first with all of the Harry Potter books except Chamber of Secrets. I'm sure you can understand why…) Bergdorf Blondes. With a background in fashion and Anna Wintour on speed dial Plum Sykes is a master storyteller who creates characters you not only love but also want to be.  It's been more than 10 years since the release of Plum's second book – The Debutante Divorcee (which is also amazing) – so I am SO excited to read something new from her. Then I can gush about it on Instagram. BECAUSE PLUM SYKES FOLLOWS ME! #winning
Eat, Pray, Love by Elizabeth Gilbert
It's 3 a.m. and Elizabeth Gilbert is sobbing on the bathroom floor. She's in her thirties, she has a husband, a house, they're trying for a baby – and she doesn't want any of it. A bitter divorce and a turbulent love affair later, she emerges battered and bewildered and realises it is time to pursue her own journey in search of three things she has been missing: pleasure, devotion and balance. So she travels to Rome, where she learns Italian from handsome, brown-eyed identical twins and gains twenty-five pounds, an ashram in India, where she finds that enlightenment entails getting up in the middle of the night to scrub the temple floor, and Bali where a toothless medicine man of indeterminate age offers her a new path to peace: simply sit still and smile. And slowly happiness begins to creep up on her.
This is another re-read and it seems very appropriate as I'm searching for some enlightenment in my life at the moment. Truth be told I remember the Julia Roberts version of this story better than the actual book so I'm looking forward to diving back in and reminding myself what I loved about it in the first place.
Eleanor Oliphant is Completely Fine by Gail Honeyman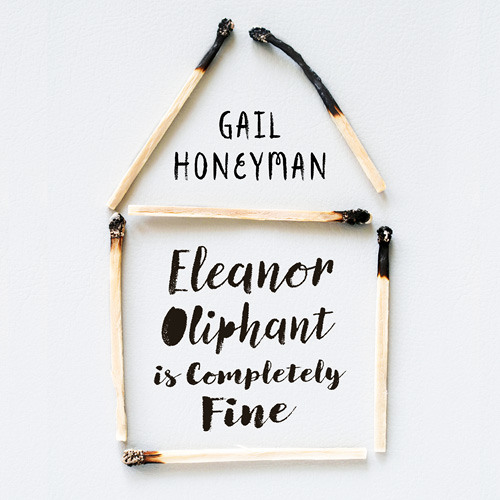 Eleanor Oliphant leads a simple life. She wears the same clothes to work every day, eats the same meal deal for lunch every day and buys the same two bottles of vodka to drink every weekend. Eleanor Oliphant is happy. Nothing is missing from her carefully timetabled life. Except, sometimes, everything.
One simple act of kindness is about to shatter the walls Eleanor has built around herself. Now she must learn how to navigate the world that everyone else seems to take for granted – while searching for the courage to face the dark corners she's avoided all her life.
Change can be good. Change can be bad. But surely any change is better than… fine?
I've heard rave reviews about this one and so am eager to have a read and see what all the fuss is about. (Insider secret: I know an editor who passed on this manuscript…bet she's regretting it now!)
Caraval by Stephanie Garber
Scarlett has never left the tiny isle of Trisda, pining from afar for the wonder of Caraval, a once-a-year week-long performance where the audience participates in the show. Caraval is Magic. Mystery. Adventure. And for Scarlett and her beloved sister Tella it represents freedom and an escape from their ruthless, abusive father.
When the sisters' long-awaited invitations to Caraval finally arrive, it seems their dreams have come true. But no sooner have they arrived than Tella vanishes, kidnapped by the show's mastermind organiser, Legend.
Scarlett has been told that everything that happens during Caraval is only an elaborate performance. But nonetheless she quickly becomes enmeshed in a dangerous game of love, magic and heartbreak. And real or not, she must find Tella before the game is over, and her sister disappears forever.
This is one I stumbled across in the 'People who bought this book also bought…' section of Amazon. And I'm so glad I did! The cover is gorgeous and there's an air of The Night Circus to the cover copy which suggests I am highly likely to love it. (Have you read The Night Circus? Do it now! It's so good!!)
In addition to the books outlined here I'm going to make an effort to get through some of the books from previous book lists which got shunted aside. My goal is to be all up to date by 1 July.
Happy reading, all!